These performances are part of the ETC International Theatre Conference, in Malta from 28 October - 31 October 2021.
Collage Art by Fabio D'Amato
Il-Qtates ta' Max-Xatt: Puppet Theatre Performance (MT)
Thursday 28 October
13:00-13:45
Esplora Planetarium Theatre, KALKARA
Limited capacity
After the success of sold out children's opera Il-Qtates ta' max-Xatt in 2019, this heartwarming production is back — but this time, it's been reinvented into a children's puppet show!
The sensitive subject of loss will be explored through a group of stray cats who struggle to come to terms with the 'disappearance' of one of the most important people in their life. Based on the book of Clare Azzopardi, Il-Qtates ta' max-Xatt invites audiences, young and old, to indulge in this devised interpretation of a story that explores one of children's greatest fears through the cheerful mediums of puppetry and song.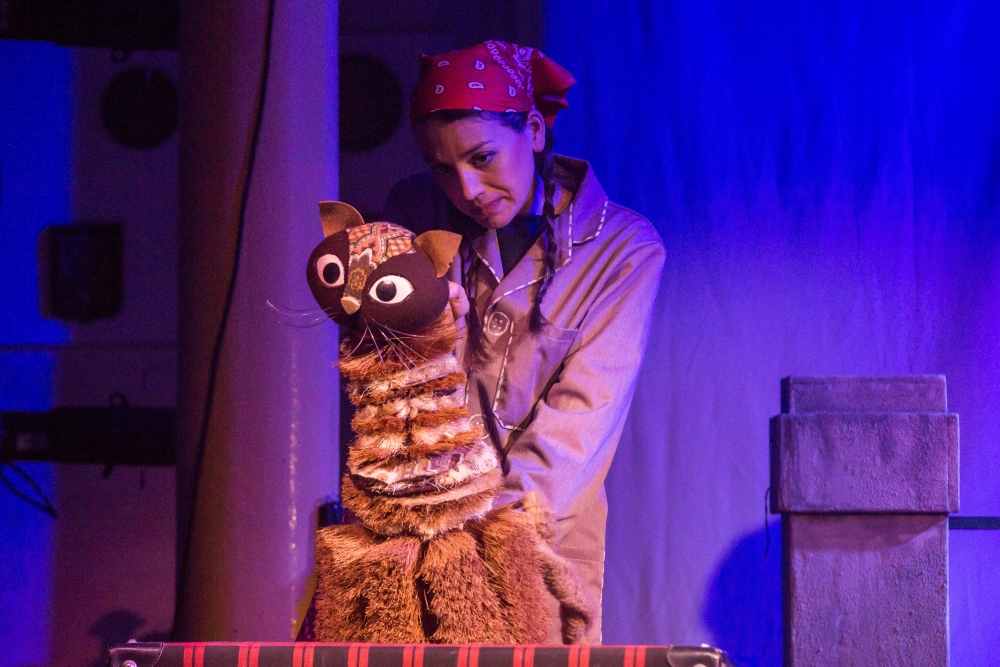 This production is intended for 6-10 year olds. It is a puppet-theatre performance based on our Children's Opera Il-Qtates ta' Max-Xatt which premiered in February 2019. This year, Teatru Malta will be adapting this show within the Planetarium at Esplora Interactive Science Centre in Kalkara.
Written by Clare Azzopardi
Adapted and Directed by Sean Briffa
Music Composed by Euchar Gravina
Performers: Sean Briffa, Jeremy Grech, Clare Ghigo
Alice in Wonderless Land by Franca Rame and Dario Fo (EN)
28 October, 14:30 - 15:40 OR 16:00-17:10
29 October, 17:30-18:40
San Ġorg Preca College Valletta Primary, VALLETTA
Limited capacity
This project is based on a text by Franca Rame and Dario Fo, inspired by the story of Alice's Adventures in Wonderland. Franca Rame and Dario Fo used theatre for political and social activism and this performance is no different.
Teatru Malta have taken the original text and adapted it as a D.I.Y. performance for you to experience. It is designed to convey the message that society works on patriarchal principles and in many ways treats women as objects. It explores the ways in which society and capitalism use women for pleasure and profit. It touches on the juxtaposition of capitalism and the women's liberation movement, with the irony of capitalism profiting from the idea of a 'free woman', for example through pornography.
The D.I.Y. performance is essentially a packaged doll with accessories — a ready-to-assemble theatre piece. Apart from the doll, the package includes a rabbit-shaped USB stick containing two resource packs (one for teenagers and one for adults), and a video, two sets of playing cards, and an instructions manual on how to assemble your performance together as spect-actors. The instructions were inspired by ready-to-assemble furniture pieces, bringing Rame and Fo's monologue into physical form. We want the audience to become the theatre-maker. In simple terms: we are making a show together.
This production is intended for teenagers aged 14+, with adult supervision. It is a touring project which can be easily assembled in classrooms, university halls, or theatre-spaces. The performance (40 minutes) is followed by a 30 minute discussion.
Watch a documentary about the show
Written by Franca Rame and Dario Fo
Created and Directed by Sean Buhagiar
Music Composed by Alexandra Alden
Production Design by Francesca Mercieca
Nouveau Riche Workshow (MT with summary provided in EN)
29 October, 18:30-19:45
30 October, 17:30-19:00
City Theatre, VALLETTA
Fortunata was born with a silver spoon in her mouth but nothing about her life is particularly fortunate. Her mother died giving birth to her. Her father never remarried, for sinister reasons of his own. Now that he has died, Fortunata lives alone in a big wealthy mansion that is rife with sorrow and regret. Her one companion is Archie, a butler with benefits who contradicts her every decision.
Fortunata decides to invite a group of young people to her house to make them rich and asks them for a small favour in return. Archie is furious and warns her that her money will be wasted on those philistines. She risks creating a group of nouveaux riches whose only interest will be to spend the money rather than do anything worthwhile with it.
All this will be conveyed not only through acting and text but also through movement as Teatru Malta will be teaming up with Moveo Dance company for this dance theatre production which features exciting choreography by Dorian Mallia and new writing & direction by Simon Bartolo.
This workshow will showcase Act 1 of two acts. A summary of Act 1 will be provided. Feedback is encouraged at the end of the workshow.
Director and Writer: Simon Bartolo
Director of Movement: Dorian Mallia
Dancers: Moveo Dance Company
Actors: Antonella Axisa and Sean Briffa
O. (MT with surtitles in EN)
29 October
20:00-21:15
Teatru Manoel, VALLETTA
This Autumn, literary legend Oliver Friggieri's writings will be brought to life. Inspired by the life and work of Oliver Friggieri who passed away last year and his admiration of Dun Karm Psaila, on the 150th anniversary of the national poet's birth, this dance-theatre piece devised and directed by Sean Buhagiar and co-produced by Teatru Manoel and Teatru Malta will study and celebrate the work of two of Malta's most beloved writers.
Devised and Directed by Sean Buhagiar
Sound design by Chris Vella
Choreographed by Cheryl Lofreda
Dancers: The MVMT
Performers: Jamie Cardona, Mariele Zammit
Nassaba: Song of a Bird (MT and EN with surtitles in EN)
30 October
20:00-20:45
Catholic Institute Theatre, FLORIANA
Each spring and autumn, during the birds' migratory seasons, the namra takes hold of around 4000 Maltese trappers who long to sit in nature at dawn waiting for the songbirds. 'Namra' is a Maltese word that is best described as meaning "a lifelong passion"; "a folly that appears all but incomprehensible to the casual observer". Namra is believed to be inherited.
Song of a Bird (S.O.A.B.) is an ongoing research project, which has to date, consisted of live performances, an audio-visual installation and an online archive of cultural practice. It is the fruit of a collaboration between the artist and his father, and a micro-community of Maltese bird-trappers.