The participation of an ETC delegation in the CINARS Biennale 2022 was ETC's first Roadshow trip since PAMS (Performing Arts Market Seoul) in 2018 and since the covid-19 outbreak.
As part of the ETC's TRANSFORMATIONS programme, representatives from 9 Member theatres and from ETC travelled to Montréal/Canada from 7-12 November:

A Tailor-Made Programme to Discover the Canadian and North-American Market

A programme of visits and meetings to local performing arts institutions especially curated for the ETC delegation as part of our partnership with CINARS was completed by a selection of Canadian and international performances from the official and the off CINARS programmes and the participation in conference and networking formats of CINARS as speakers and attendees. This exciting dive into the Canadian and North-American performing art market was the occasion to meet potential future partners, step out of our Eurocentric point of view for a few days and recognise that the transversal topics we explore every day at ETC (ecological sustainability, gender equality, diversity, digital readiness, technology and theatre…) are issues shared and discussed throughout the world.
CEAD – Centre des Auteurs Dramatiques

The week started with a meeting with the CEAD – Centre des Auteurs Dramatiques – Centre for Drama Authors, as a first exploration of contemporary Canadian dramaturgy.
We were joined for this meeting by the staff of CEAD as well as four Canadian playwrights:
Michel-Marc Bouchard, famous and multi-awarded for plays like Tom at the Farm (subsequently adapted for cinema by Xavier Dolan)
Laurence Dauphinais and Maxime Carbonneau, who work – on their own or together as part of the company La Messe Basse – on multidisciplinary and multimedia shows, sometimes co-written with an AI, such as Siri or Aalaapi.
Marie-Claude Verdier, a sci-fi theatre writer, with plays including Seeker or the audio show Menlo Park.
The CEAD support their members (about 300 French-Canadian playwrights), artistically in multiple ways, offering them space and time to develop new plays, with residencies (in Canada and abroad thanks to a large network of partners in French-speaking countries), a rehearsal space for stage readings and text workshopping, but also with dramaturgical support in the writing process (the CEAD employs two full-time dramaturges), trainings for translators, and support in the dissemination of new texts.
They can also be a formidable resource for European theatres looking for new, contemporary texts from Canada, thanks to an online database with hundreds of texts in French and some English translations.
Find out more here.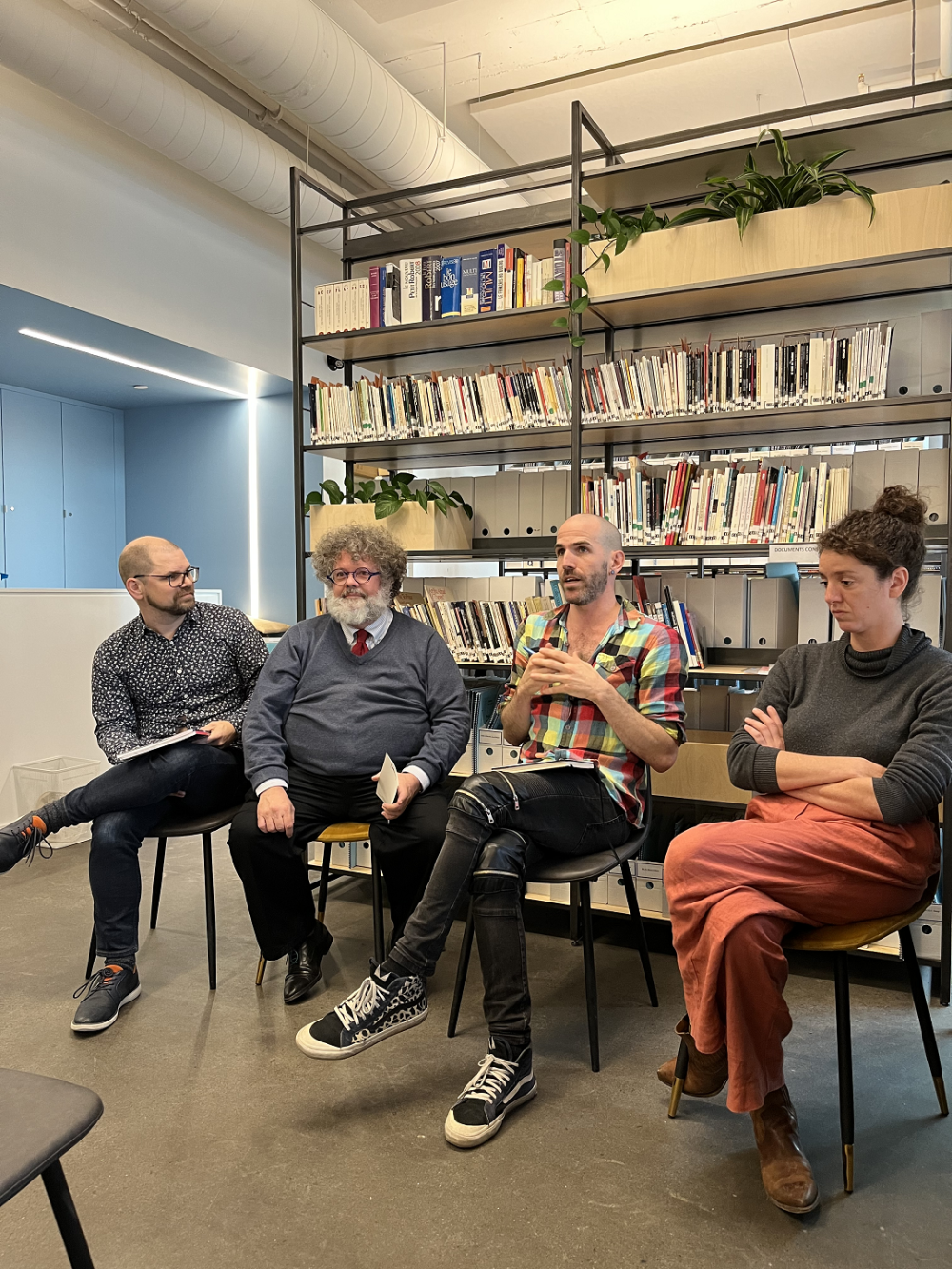 Le Diamant

Viviane Paradis, Director of Artistic Programming at Le Diamant, Robert Lepage and Ex-Machina's theatre, newly-built in Québec City, met with the ETC delegation on 8 November. She shared their community-centred vision for Le Diamant, including the opportunities of international touring for their productions as well as hosting international guest performances, in a city that is much less internationally-orientated than Montréal.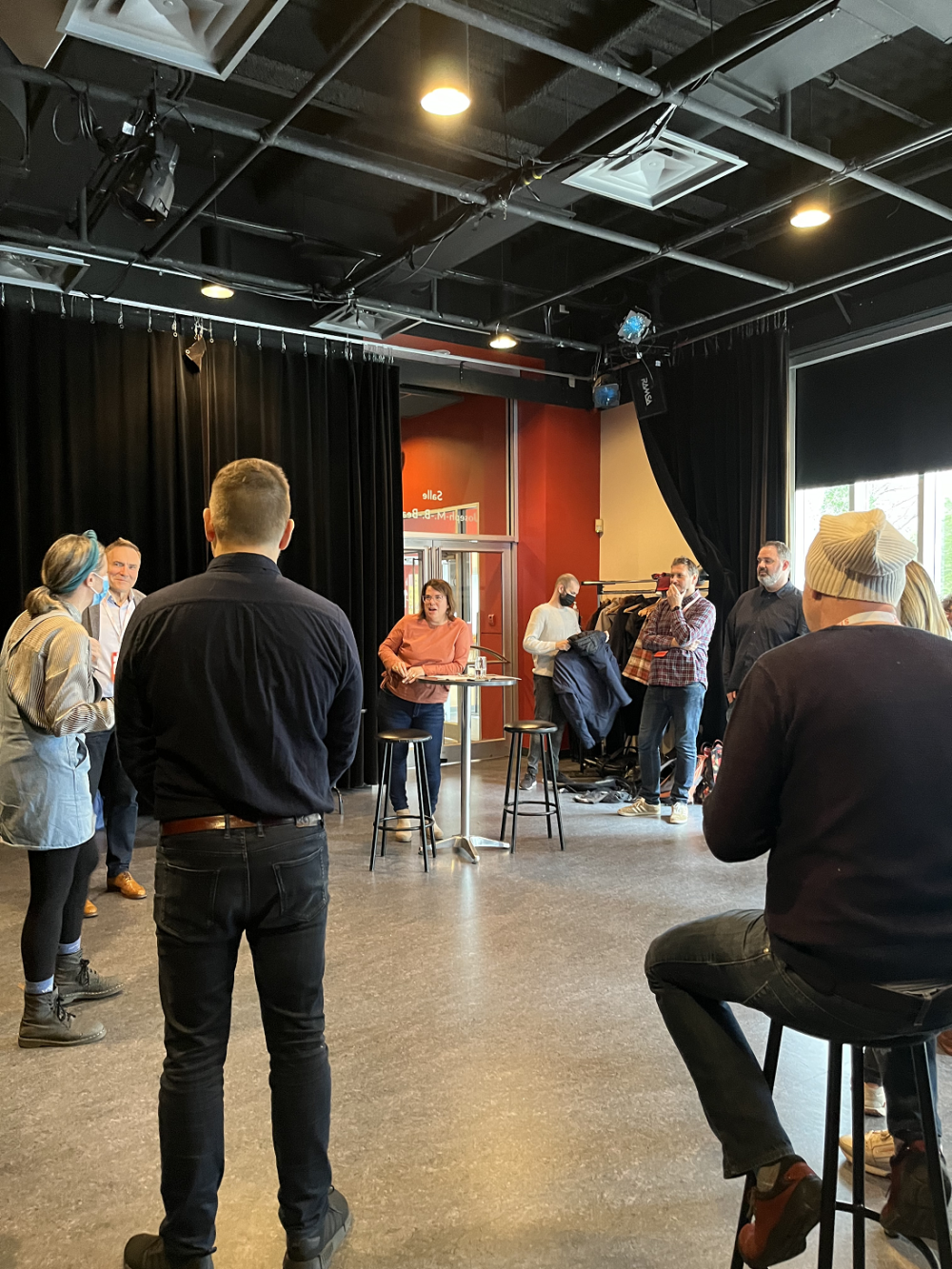 The Maison Théâtre is an association of thirty professional theatre companies, established throughout Quebec. We met with artistic director Sophie Labelle and representatives from a few member companies (full list here), who set out their vision for the Maison Théâtre: actively participating in the development and dissemination of theatre for children and young people around the world.

The venue is located downtown, in the Quartier des spectacles. It offers a rich and varied program each season, consisting of around fifteen shows for different age groups, from twelve months to seventeen years old, along with their families, or as part of their school programme . The Maison Théâtre is also a leading figure in audience outreach and cultural mediation in Québec. Recognised for its approach inspired by philosophy for children and teens, it offers its audiences a wide range of activities, workshops and tools to enhance the artistic experience.
Théâtre du Nouveau Monde

The TNM, located in the heart of the Quartier des spectacles, produces and presents major works from the international and national repertoires, while giving pride of place to creation. This role, which it has remained faithful to since its founding in 1951, has taken on a new dimension since the current artistic director, Lorraine Pintal, took office in the fall of 1992. Directors are invited to propose their contemporary vision of a wide variety of dramatic universes, from the classics of Antiquity to the 21st century, and to the great Quebec works. Since the pandemic, TNM has also increased its digital distribution of theatre shows.
The TNM is currently juggling large-scale renovation works of their building with continuing operations and shows and we were able to visit the construction site as well as the set of the premiere taking place that evening, The Life of Monsieur De Moliere, adapted from the novel of Kyiv-born author Mikhail Bulgakov and directed by Lorraine Pintal.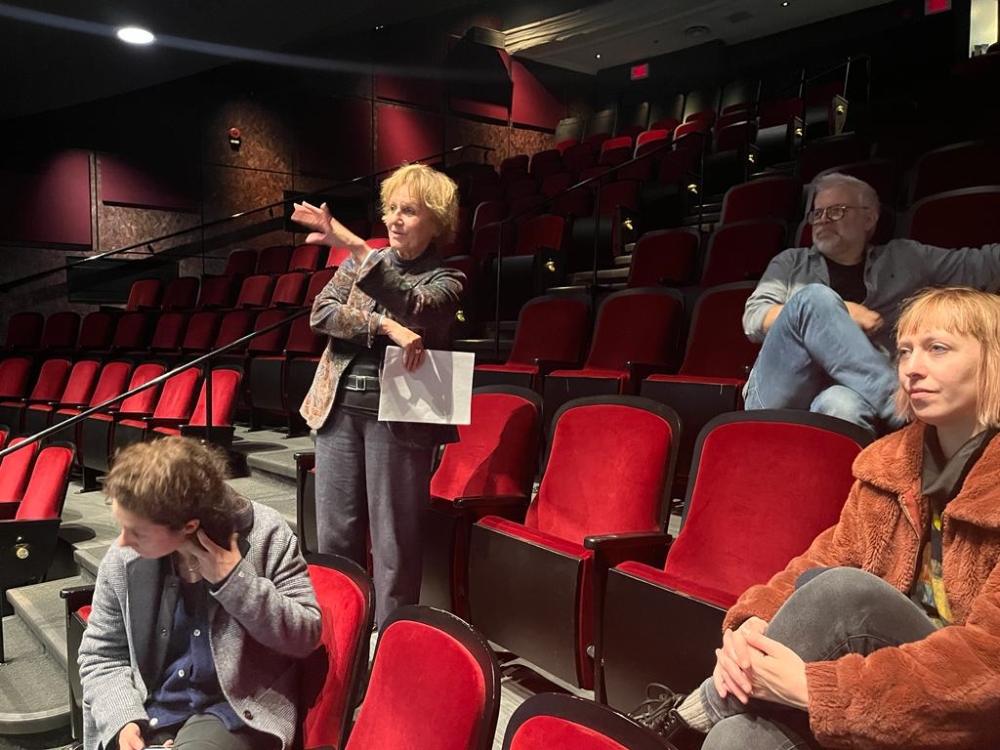 Théâtre Prospero

Théâtre Prospero has been founded in 1984 by a collective, Le Groupe de la Veillée, created by Gabriel Arcand upon his return from a stay at Grotowski's Theatre Laboratorium in Poland. Since 2022, a new artistic team, led by Philippe Cyr and Vincent de Repentigny, has taken over the theatre and builds on this tradition of experimental theatre to create a nourishing space for new dramatic writings, in a constant exchange with Quebec, Canadian and international artists. Parts of it works also includes professional development for artists and audience outreach and development, which led to interesting exchanges and sharing of best practices with the ETC delegation. We were also invited to watch one of this season's new creation at Théâtre Prospero, Déclarations, a text by Canadan author Jordan Tannahill staged by Mélanie Demers.
Usine C

The ETC Roadshow trip to Canada concluded with the visit of Usine C and a lunch-meeting with the outgoing founder and general and artistic director, Danièle de Fontenay, and her successor Angela Konrad, newly-appointed general and artistic director.
Since 1995, Usine C has been a national and international creation and presentation centre in the Centre-Sud district of Montreal. Founded by the research and creation company Carbone 14, Usine C offers multidisciplinary programming composed of hybrid works at the intersection of theatre, dance, music and media arts. It presents contemporary dance artists from Quebec, Canada and abroad, offers its premises for artistic residencies, organizes conferences given by professionals in the field and post-show discussions with the dancers, and offers workshops and master classes in collaboration with Montreal choreographic centres such as Circuit-Est and Studio 303.
New Transatlantic Collaborations: Networking Meeting with the European Theatre Convention

As part of the off programme of CINARS, we organised a networking meeting with the ETC delegation on Wednesday 9 November and were joined online by two additional colleagues:
"New Transatlantic Collaborations: Networking Meeting with European Theatre Convention (ETC) at CINARS" offered the 80 participants from all over the world an intense moment of exchange with an impulse speech on European theatre by Heidi Wiley, table talks with members of the ETC delegations, and a networking lunch.