Upon the initiative of the ETC and Ukrainian theatre makers and artists of public theatres and the fringe scene, a three-day theatre showcase was organised in Kiev. A selection of Ukrainian theatre plays were shown to an international professional audience. In addition, workshops and discussion groups with artists focusing on international cooperation and media work practices complemented the showcase programme.
The Dog`s Cage: View from Above. View from Below.
Directed by: Vladyslav Troitskyi
DAKH theatre, Kiev (Ukraine)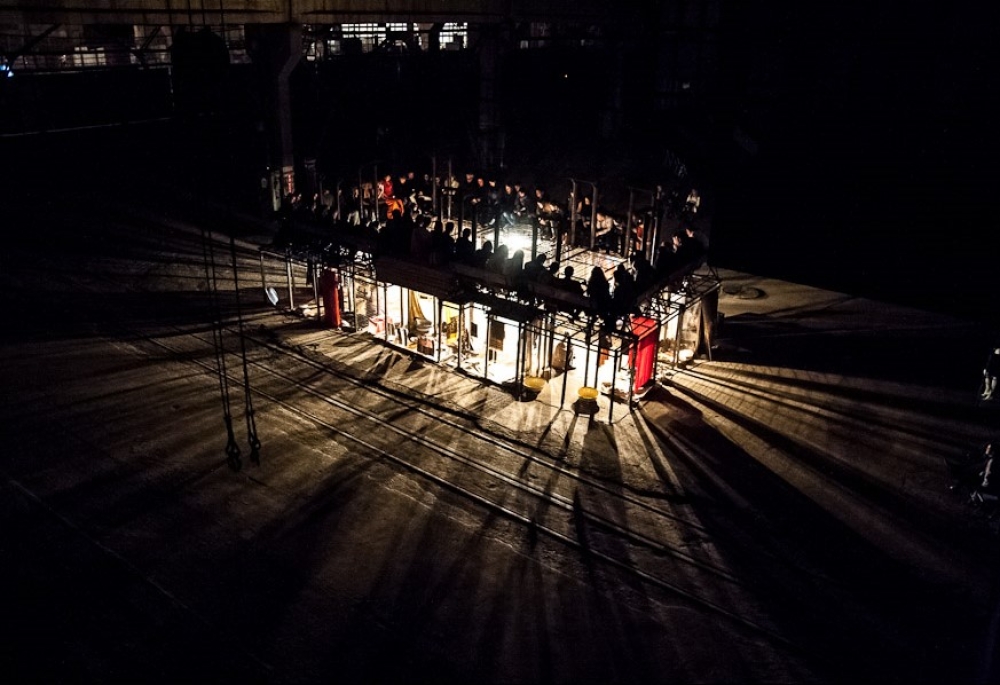 "Sunflowers praying: The Thunder on the cloud is reading the Bible…The Poplar whispering: how horrifying your cry is, Isaiah! / Sunflowers praying: The Hunger; mother is killing her baby…The Poplar yelling: this is my heaven, Isaiah!" (Vasyl Barka)
The Dog's Cage. The View from Above. The View from Below. is a lamentation play, based on extracts from different writings that are assonant with historical events that took place and are still taking place in Ukraine now.
The chorus, prayers and supplications from the tragedy Oedipus The King reflect the position of a suppressed nation, forsaken by God. Despised, these people are searching for their truth and God in this world: What does a person come to earth for…why do terrible things happen…who is to be blamed for human anguish…what is that sin that people have to atone for…? These and other questions keep emerging in the mind of a person that strives to break out from his bond.
Erik XIV
Directed by: Stanislaw Moiseiev
Ivan Franko National Academic Drama Theatre, Kiev (Ukraine)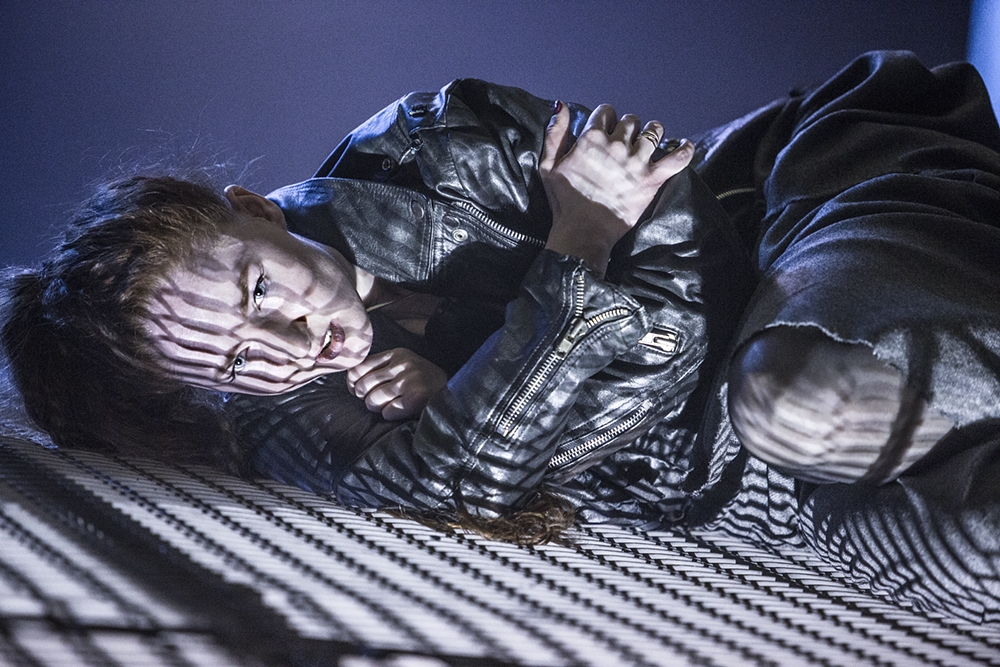 This is the first production of the play written by the famous Swedish playwright August Strindberg on Ukrainian stage.
The actions take place in Switzerland in the XVIth century during the reign of Erik XIV (whose father Gustav I is considered to be the founder of modern Sweden). King Erik was an extraordinary ruler and some experts claim that he suffered from schizophrenia. He became the first king to be referred to as "Your Grace". He had a fascinating personality and, because he made many mistakes while ruling Switzerland, he became infamous as an odious monarch. Internecine wars, struggle with the Parliament, forbidden relations and out of wedluck children…Strindberg himself saw Erik as a Swedish Hamlet who first and foremost striving for personal independence; nevertheless, this desire strengthened by the fear of incomprehension and desolation turns into madness that is followed by emptiness.
Vij 2.0
Directed by Maks Golenko
An independent project of the Bilyts Art Centr, Kiev (Ukraine)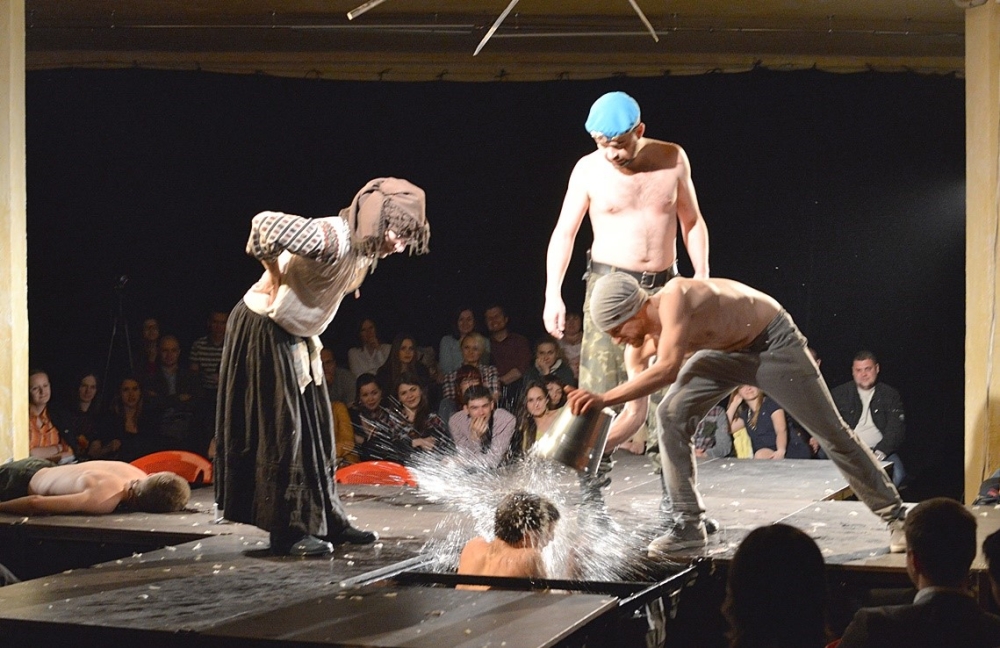 Will Europeans be able to understand us? Will we be able to understand Europeans, taking into consideration the fact that we cannot agree even between ourselves?
The play "Viy 2.0" by the popular Ukrainian playwright Nataliya Vorozhbyt is an original author version of a famous plot of a mystical story by Nikolai Gogol. As in Gogol's work, the action takes place in Ukraine but unfolds today: two French students, Lucas and Damian, come to Poltavshchyna by the invitation of a Facebook friend, they happen to get off at the wrong stop and get trapped into a Ukrainian night with all its modern "werewolves"…Over the course of a few days, a number of funny situations will happen in their lives, as well as one murder, three funerals and an encounter with evil spirits.
Thus Spoke Zarathustra
Directed by Vladimir Kuchinsky
Lviv Academic Les Kurbas Theater, Kiev (Ukraine)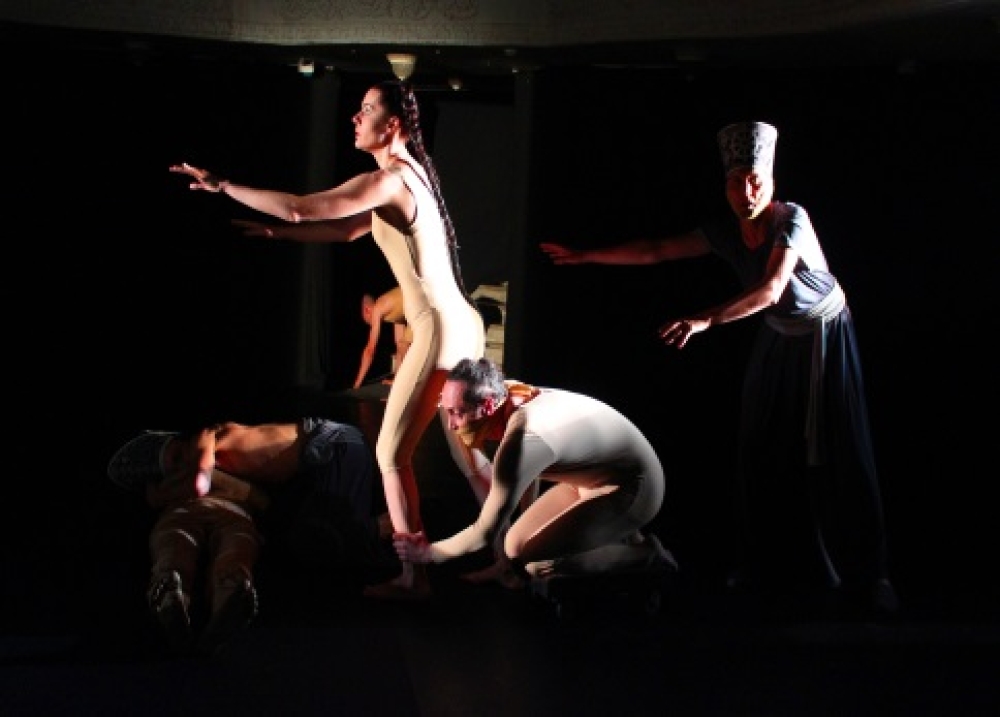 The Get away from Zarathustra - an attempt of the playwrighter Klim and the director Vladimir Kuchinsky to understand by theatrical means the crisis in Ukrainian society, filtering their views through the prism of one of the most famous European philosophical works, Thus Spoke Zarathustra by Friedrich Nietzsche.
Love and Intrigue
Directed by: Andriy Bilous
Kiev Academic "Molodij" Theatre (Ukraine)
Ferdinand is the son of President von Walter, while Luise Miller is the daughter of a middle-class musician. The couple falls in love with each other, but the president instead wants to expand his own influence by marrying off his son Ferdinand to Lady Milford, the duke's mistress. Her aims are to reach the highest peak of the fame, wealth and women's happiness. Her beauty, intelligence and cunning cause men to tremble with delight. And the Lady is even ready to destroy the pure and innocent love of a young couple for her own desires.
Ferdinand rebels against his father's plan and tries to persuade Luise to elope with him. The president and his secretary Wurm, who is in love with Louise, arrests Luise's parents for no reason. While grieving the murder of her parents, Louise is forced to write a love letter to the Hofmarschall von Kalb.
How many more difficulties can these lovers endure? And can that love and virtue remain untouched by a world of lies and corruption from the age of Schiller that still remains relevant? The themes of choice, freedom and honour are imbued in the history of this tragic love.
Stalkers
Directed by: Stas Zhirkov
Co-production of "Golden Gate Theater" and Kiev Academic Young Theatre (Ukraine)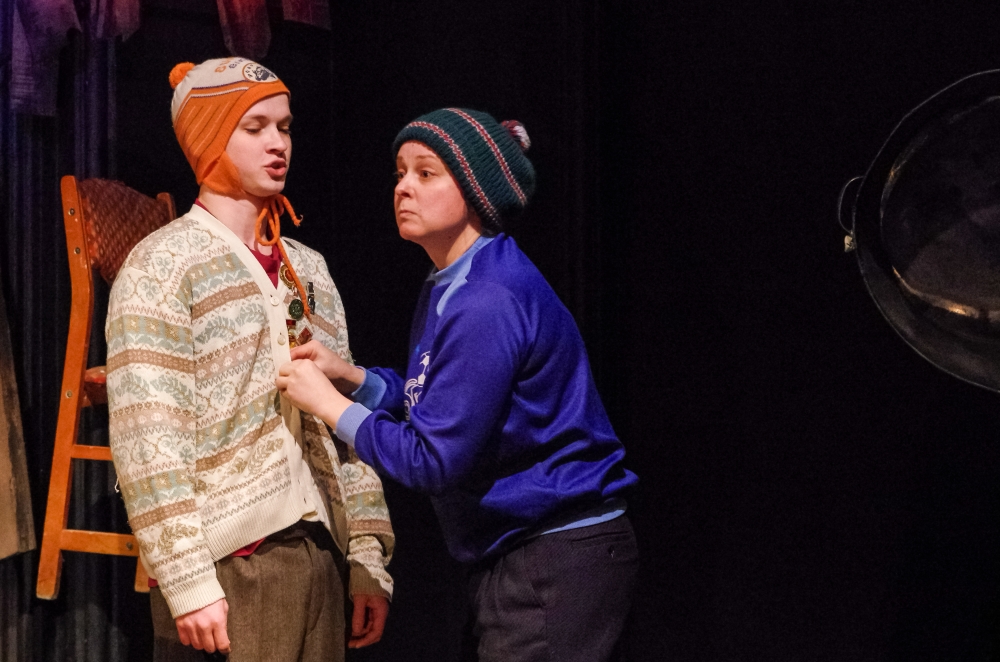 In the middle of an abandoned village in Chernobyl lives a fanciful priestess, a crazy mother and her stupid sun, forgotten, wanted by no one. There has been a father, but he disappeared, and secretly gathered the most necessary things, documents and all the money, and fled in an unknown direction ...
This comedy where myth and reality are equally authentic, where humour borders on the truth of our lives, where potatoes are a delicacy, and "zhuschonka" – just fantastic!
"Why do we live in the zone and other people are living "not in the zone"?
"The play area 'Chernobyl Zone' is a metaphor for the whole country. We all, the 'zone', we dream about the EU, NATO and the visa-free regime, as said Vovchyk abouth this 'McDonald's', but they remain somewhere on the horizon ... and 'Stalkers' – aren't crazy informal-travelers, climbing into the prohibitive forests, but all of us who are moving from generation to generation on vicious circle, unable to tear it up" (Anna Lypkivskyi in "Day").
Gogol Search
Directed by: Olexandr Kryzhanivskyin
Pechersk New Drama Theater, Kiev (Ukraine)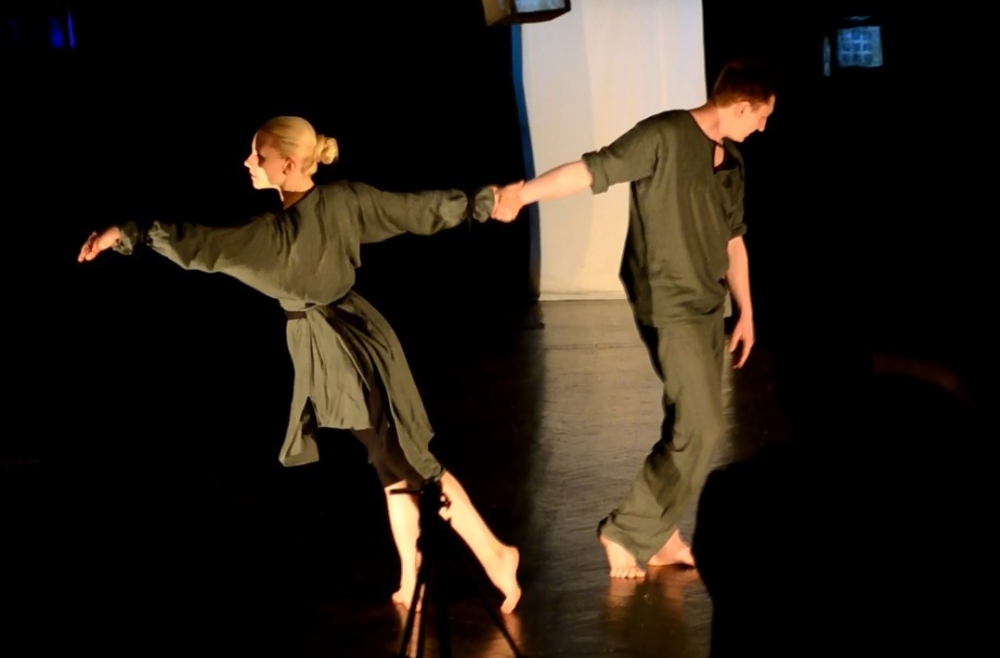 In this performance we try to investigate the vast and varied world of the planet called GOGOL.
For the work we turned to plots and fragments from Gogol's works created in different periods. We generated our fantasies based upon these themes. Like Hoffman in Western literature, Gogol in our culture was a source for the Surrealist tradition – the world filled with fantastic character that excite human the imagination.
This world is full of hyperphysical spirits and creatures, myths and legends – and now the world of Gogol's characters co-exists with our modern rhythms.
There is no single story line in our performance. We combine drama, dance, gesture and song to stir up the imagination of our audience.
Morituri te Salutant
Directed by: Dmytriy Bogomazov
Ivan Franko National Academic Drama Theatre, Kiev (Ukraine)
Morituri te Salutant - is a play based on the works of the Ukrainian master of psychological novels Vasyl Stefanyk. His writings always deal with everyday drama and the ordinary people who do not even realize what is happening to them.
The performance contains several stories: "In the tavern", "Alone", "Evening Hour", "Christmas Eve", "May", "Dream", "Sons", "Sin", "Everything by us is a holiday". They are random stories about parents and children, men and women, birth and death, dreams and reality, hard work and eternal hope. In these subjects, as in life, tragic and comic situations constantly intertwine. Though the characters are very different and experience very different events, one main thing unites them - human dignity. Whatever trial fate sent to a person, whatever limits the person reaches in their moral and physical difficulties, they must endure. Even on the threshold of eternity, life is still challenging.
For the director and author Dmitry Bohomazov (who previously worked with the novels of Stefanik) the main thing was to find the internal composition of the performance, which will gain final theatrics, referred to via the polyphony of themes and images. He chose a musical form for the performance, which was the tuning fork for events perception, gave them enigma, imagery and metaphorical, democratic openness of the action. That music reveals the finest, most intimate movements of the soul, its doubts, its suffering, and cleans and encourage it.