TRANSFORMATIONS is the name of ETC's new programme of activities for 2021-24.
ETC will continue its exciting offer from recent years – including conferences, artistic programmes and workshops – and add new grants, new networking experiences and new chances to travel and exchange ideas.
We Aim To:
Create a long-term vision for ETC & European Theatre
Continue to lead the way towards sustainable development & resilient theatre
Increase access to theatres in a post-Covid world
We Will Support:
Pioneering theatre that is sustainable, diverse & digital
Steps towards a climate-neutral theatre sector
45 new artistic co-creations / 18 training and networking programmes / activity with 13,400 people
ETC has been selected as one of the cultural networks to connect and strengthen Europe's culture sector in a long-term partnership with the Creative Europe Programme of the European Union. We are proud of this recognition, the support and co-financing for the TRANSFORMATIONS programme to promote theatre as vital European art form.
To help you find the activities most relevant to your theatre and your staff, we have split ETC activities into three sections.
These are Artistic Collaboration (activities that bring people together to create or exchange about artistic work); Professional Development (workshops, mentoring programmes and monthly meetups); and Theatre Advocacy (activities to strengthen and support the European theatre sector in a political context).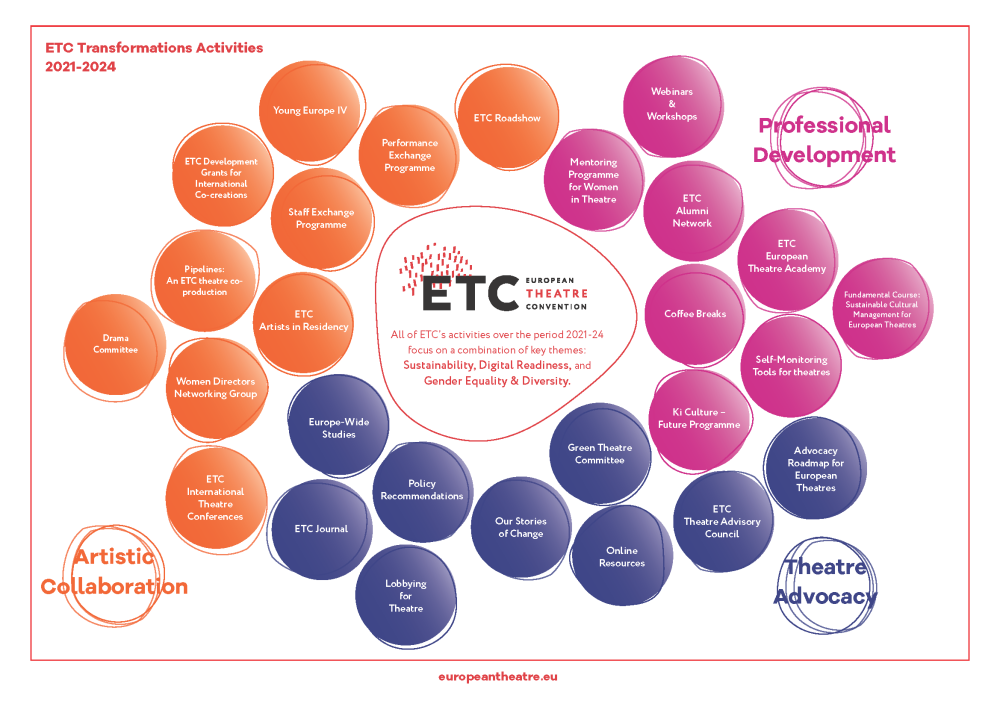 Viktor Nübel
All ETC's activities over the period 2021-24 focus on a combination of key themes:
And remember: ETC activities are for everyone in your theatre, not just your directors or dramaturges! We will soon add icons to indicate whether an activity is designed for the entire member theatre; staff at member theatres; or is an 'Open Call' for artists across Europe and beyond.