The European Cultural Community is united in condemning the brutal invasion of Ukraine by Russia. We deplore in the most absolute terms the damage caused to a free country and express our unwavering solidarity with the people of Ukraine – our friends, our colleagues, our artistic and cultural partners. We also express our solidarity with those in Russia who oppose the war and the actions of Vladimir Putin.
Here we share their voices and artistic resistance to the invasion. These are comments from individuals and do not necessarily reflect the position of ETC.
Sign the open letter calling on world leaders to continue support for cultural collaboration with Ukraine.
Follow ETC on Facebook, Instagram and Twitter to see events and initiatives from our member theatres in support of Ukraine.
Sofia Baskakova, actress, CCA DAKH
"At that time, any decision becomes fateful, because the stakes are completely different."
Tanya Shelepko, Theatre Director, ProEnglish Theatre
"My message to European theatres is to keep us loud. Keep the stories about us loud. Because if we are forgotten... it's horrible to say, but the whole of Europe is next."
Igor Dymov, Actor, CCA DAKH
"Sitting at home, in this beautiful, wonderful house and drinking wine...you begin to understand very much that you love life."
Victoria Myronyuk, Theatre Maker
"Thank you for giving me the opportunity to speak out about the situation in Ukraine.
I am Ukrainian theatre maker and below I send you some of my reflections and answers to the questions often asked by the European media.

How does this conflict affect your life and your work?

First, I would like to correct a little bit the term, because nowadays the titles and narratives, which follow them, are one of the most important things in the this hybrid war. What is happening now in Ukraine is not a "conflict", and not " a military operation" as it is stated by the Russian propaganda, since these terms are underestimating the state of the emergency in my country. This is a full- scale war, which embraces all types of war crimes, like bombing the civilians with forbidden arms, using civilians as a "live shield", rapes, etc. During 11 days of this war, more than 400 civilians have been killed already and around 3000 wounded.

Putin's announcement of war I read at 3 a.m. going by bus from Madrid to South of Spain. From that very moment, I can't sleep properly, I can't concentrate on anything, but news, I communicate with my granny and friends from Ukraine for three times a day, sometimes only one question: are you alive? are you safe? During this week, I also lost several kilos and my heart was wounded. I will be able to cure it, but it will never forget.

2. What are you doing now, where are you? (if it is not safe for you, you could just tell if you are or are not in Ukraina). If you are still in Ukraine - why didn't you leave? If you left: how are your feelings regarding the realities from a distance?

I am in Spain now, recovering from the Covid consequences, however now it seems the least of the problems compared to my colleagues' reality in Ukraine. When I will get better, and if the situation will get worse in my granny's town, I am planning to move there and to bring my granny to Poland since she has problems with her legs and cant walk by herself. Being far, I try to do what I can: to help my friends and colleagues with the logistics, accommodation, with info about residencies in Europe etc. I also call for my European colleagues and artistic institutions to boycott any collaboration with the artists and institutions from the Russian Federation, even with those with the anti-Putin stance, because otherwise they normalize the false notion of "culture and arts are out of politics", thus cancelling the emergency state in Ukraine.

3. How are your colleagues? What are the theatre makers are busy with?

It's painful to talk about this because from the beginning of war, they stopped being artists, they all have become fighters of different fronts: somebody went to the territorial defense as volunteers, somebody makes Molotov cocktails and sorts humanitarian aid, somebody writes articles, and some female artists with children escaped to Poland. However all of them are now organised and do their small actions to break this absolute Evil on multiple levels.

4. How are your thoughts now for the very next future?

Rebecca Solnit, an American writer and feminist wrote a book "Hope in the Dark" after the invasion of the USA in Iraq and some statements from this book seem to be the only things that save my thoughts from the despair. Her two key words are hope and resistance. She differs hope from optimism, because hope requires some efforts. Besides, she says that even the smallest efforts of multiple people may create the basis for resistance, the springbord of the victory. Her words help me in my everyday actions. They help me to concentrate on the answers of these questions, they help me to bear the news, they help me to speak with crying friends who lost their home, etc, etc, etc.

I do hope that soon this fight of Ukrainians for their independence and identity, will not only defeat Putin, but also defeat all imperialist narratives and appetites of Russia. I do hope that we will be able to rebuild our cities and lives in Ukraine with a better future: democratic, inclusive, ecological. And arts and culture, which are capable of curing the emotional wounds of people and propose some visionary alternatives of the future, will play the key role in this process."
Dakh Theatre
"This video shows the events in Ukraine during the first seven days of the war from February 24 to March 2. It contains documented parts of damage and destruction in the Ukrainian country because of the Russian invasion."
Nadiia Golubtsova, Actress, CCA DAKH
"Before, when you were told about a historical time, you imagined some Vikings, Cossacks, horses. And now you understand that historical time is Kyiv... Kyiv under siege."
Many actors from DAKH Theatre are still in Kyiv and filming their thoughts and reflections on the situation during the war in Ukraine. Each of them is currently located in completely different parts of the city -- and even across the country.
Maria Bruni, Actress
"I'm Ukrainian and 4 days ago I was a Ukrainian actress. Now I am not far from Warsaw, Poland. I'm with my child, my daughter. She is laughing now and I am very happy about it. I am very happy about her safety. But a lot of Ukrainian children now are not safe. They are in a war. They are in a totally fucking shit Putin's aggression."
Valentyna Melnyik, Actress, CCA Dakh
"On the second day we all left our family home: Me, Dad, Mom, my two little brothers and two dogs - a mongrel, a small dog with an interesting name, Aspirin, and Alf, a big, huge labrador.
We were on our way and everything was going quite well. All of us were absolutley exhausted, especially my Dad who had not slept for 2 days before and then had only managed to sleep 2 hours.
Then there was one stop that seemed to divide our lives into 'before' and 'after'."
Many actors from DAKH Theatre are still in Kyiv and filming their thoughts and reflections on the situation during the war in Ukraine. Each of them is currently located in completely different parts of the city -- and even across the country.
Pavlo Yurov, Independent Theatre Director, Actor, Dramaturge
War Notes
I hear stress in your voice
Residency deadline
Покормить бабушку
Аптека
Вирус отменен. Есть 2 гривны
Не нервничает тот кого клюют вороны

Cheap people for soldiers
Hostage nation
Didovshina
Negotiation advantage

***************
28.02.2022, Monday, afternoon, Kyiv
Очередь
On Sunday I get on the train and immediately start thinking why the hell I am doing that. I have vague agreements with some of the reservist armed territorial defense people and an even vaguer idea to assist foreign journalists covering the events. I am afraid, and I have these numerous thoughts revolving in my head. I talk to the two mobilized men on the train, they are simple folks from the relatively small town. One of them is dissatisfied that he has to pay for the ticket, while men run away from Kyiv for free. He also complains that the war is fought by the poor. But he's also carrying bottles with water and food to support others and himself where he goes. He's convincing that everything is gonna be cool. As the train approaches Kyiv my fear diminishes.
It is sunny. The platform is filled with people and the departing trains are packed. But the mood is calmer than on the videos from before. When I approach the subway at the railway station the siren goes on. The subway movement is limited and I ride one stop, and then walk.
There are very few cars, and expensive ones too. The streets are almost empty. As I walk I am afraid of the Russian saboteur groups and that someone will shoot me down. Gradually this fear decreases. I see the queues near the shops. Only grocery stores are open. They have opened for the first time in the last day and a half. And it gives me this feeling of familiarity. Something that I knew a long time ago, and somehow forgot. And I recall the Soviet era. I was 11 when it fell apart. But I remember how common it was to stand in line for half an hour to buy some bread. How often people used to spend their lives in lines, the most, probably time used, after sleep and work. The lack of common goods and resources. When the USSR was at war with the whole world. The Soviet culture of state exploiting the people is flickering in the air.
**************

26.02.2022, Saturday, evening, a 3500 people village in western Ukraine
Закрутка
There is a group of IT company employees staying at the house of my girlfriend's colleague fiancee. Two couples and two families. One family has two daughters and a dog. It is in the countryside, a little village where everyone knows each other. When we go out for a walk during the day, and just looking at the households behind the fences, an old man runs out and starts asking us who we are and what we are doing in the street. The fiancee tells his last name and the number of the building we stay at. The old man quiets down, apologizes and explains his treatment with a threat of the invasion. We joke around that a bit.
The household we stay at has supplies in potatoes, flour, homemade wine, and other foods, there are chickens. We have simple, but delicious countryside dinners. The kitchen becomes a newsroom with everyone checking the phones and sharing good and bad news, jokes, and whatever comes to mind. Many people have never met before, so it's also a communication among us on who is who, and who likes what. My girlfriend's colleague is also on the phone looking for the options to find accommodation for the fleeing people who continue to come into the area from Kyiv and eastern Ukraine.
At some moment there are only young women in the room and we talk about the parents who stayed in the attacked towns. The girls share that almost all of the mothers have some food supplies and reserves. And we have this horrible insight how generation after generation people in Ukraine are expecting war to happen, and try to secure some basic needs with supplies. Guys and I go to the store to buy food and some domestic stuff, and the conversation falls into the same direction.
******************

25.02.2022, Friday, night
Сон славянск
At night I am on the third train commuting from Kyiv to the western Ukraine. My girlfriend and I bought the tickets at around 6 am right after we heard explosions from the shelling in the distance and read all the news about the Russian invasion on social media. I immediately shared the news on my facebook and instagram. I called my mother and sister, and warned my friends, and colleagues about the situation. We packed hastily, things were prepared in advance - an "anxiety suitcase", poured water in the bathtub, had a fast breakfast, washed the dishes, while monitoring the news online.
The train was at 3 pm, so we went out to check the shelter in the building. We cashed some money and observed long queues at the ATMs and grocery stores. People were tense and anxious, but no panic present. The cars were driving reasonably faster than usual. We took our stuff at 1 pm and went to take the tube for the railway station. There were a few people in the street, some of them glanced at us with suspicion and strangeness. The railway station looked quite usual as to the number of people and their condition, and the first train we took had lots of empty seats.
When I wake up at night I recall this feeling I had in 2014 in Sloviansk, Donbas, eastern Ukraine. At that moment I was taken as a hostage by Russian-led separatists. I was beaten up, threatened to be executed and put into the basement where I spent two weeks, and then moved to the occupied police detention center, where I was until the liberation of the town by the Ukrainian army, two and a half months later. First week in the basement I used to sleep while sitting on the bench, then they allowed me to lay down on the clothes on the floor, and there was a better sleep. But every time I would've woken up I had that feeling that it was not over. The nightmare in my dream continued in reality.
And that was the feeling I had when I woke up after a brief sleep on the train in the middle of the night.
Pavlo Yurov
Volodymyr Luitykov, Actor, CCA Dakh
"The full-scale Russian invasion of the territory of Ukraine, an independent, free state, began on February 24, 2022 at about 5am. Two days before my 37th birthday."
Many actors from DAKH Theatre are still in Kyiv and filming their thoughts and reflections on the situation during the war in Ukraine. Each of them is currently located in completely different parts of the city -- and even across the country.
"The purpose of these videos is to show the world the reality that millions of people live in, to share resilience and courage, and to assure the whole world that Ukraine will win!"
Nadia Sokolenko, Performing Arts Programme Manager
"Dear colleagues, allies, friends,

On behalf of the Ukrainian Institute I write to ask for your support and help in these dark times for Ukraine and the world. After eight years of military aggression against Ukraine Russia has launched an unprecedented full-scale war against our country. Russian invasion has the potential of becoming bigger and even deadlier than any other conflict that took place in Europe since World War II. United in rage and determination, Ukrainians are fighting the aggressor on all fronts. We at the Ukrainian Institute would like to share some updates and requests with you.

The situation in Ukraine. On 24 February 2022, at 5.00 am the armed forces of the Russian Federation attacked Ukraine. Explosions, bombings and air raids have hit all major Ukrainian cities Russia is conducting warfare with disregard to the key principle of the international law, namely distinction between civilians and combatants, or between civilian and military objects. The aggressor's tanks and heavy artillery crossed the Ukrainian border from the north, the south, and the east.

As a result, Ukraine suffers the loss of its residents, both combatants and civilians, including children. As of 27 February, Russian invaders killed 352 civilians, including 14 children, wounded 1,684, and caused great destruction of civil infrastructure.The Ukrainian Army continues to defend every piece of the Ukrainian territory, every civilian, and the very spirit of freedom and democracy. Ukraine resists and strives for peace.

How the Ukrainian Institute will work in the coming months. The Ukrainian Institute works in an emergency mode as an information hub in close cooperation with the Ministry of Foreign Affairs of Ukraine. Our Kyiv office is closed but we continue to work remotely. Our whole team is safe now, as safe as we can be in times of war.

All our projects planned for the next three months are suspended. Our programme funding is likely to be reallocated for the purposes of the Ukrainian Army. We ask for your understanding of this necessary action. We will resume conversations with our partners once we receive further advice from the Ministry of Foreign Affairs and our Supervisory Board.

How you can HELP Ukraine. Our team keeps receiving hundreds of requests and inquiries on how to help Ukraine. The most important things we ask you to do right now are:read and share verified information about Russia's attack on Ukraine, e.g.:
Finally, you may check the globally renowned media with high journalistic standards and comprehensive coverage, such as BBC, CNN, The Guardian and others.

Donate funds to support the Ukrainians in this fight and encourage your family, friends and networks to do so:
Come Back Alive, a charity that has effectively raised over USD 21.5 million for the army and humanitarian needs since the beginning of Russian aggression in 2014. The charity is a transparent and trustworthy organisation, one of the most efficient of its kind in Ukraine;
a special account created recently by the National Bank of Ukraine. All funds accumulated on this account will be used solely to procure supplies and otherwise support the Armed Forces of Ukraine;

Join or organise peaceful protests and rallies in your cities. Your governments are much more likely to proportionately respond to the world's most outrageous military aggression in contemporary history if they see a clear message from their citizens, that is YOU.
Publish posts on your personal and institutional social media pages to condemn the Russian aggression and support Ukraine using #StandWithUkraine, #StopRussianAggression, and any of the images created by the Ukrainian activists.
Boycott Russian cultural activities. Today, we need your solidarity and support more than ever. Russia has been using its 'great culture' to justify, downplay and steer public attention away from its countless war crimes, acts of aggression, violation of human rights and international law. You can make a huge difference by stripping Russia of this leverage, regardless of where you work - in a theatre, a museum, a music festival, or a small NGO.
We ask you to suspend all your projects that involve Russian institutions and individuals that are directly and indirectly linked to or funded by Putin's regime and Russian capital, and those who do not condemn Russia's war in Ukraine. We would appreciate it if you issued a public statement about your decision.
Warmest regards,
Nadia,
Natalia Ponomarova, Director of PRO.ACT Fest
"Dear colleagues,
This video that you can find below was filmed in a bomb shelter in Kyiv by our colleagues from DSP theatre and citizens.
Please spread it among your friends and throughout your channels.
Help us to stop Russian aggression together."
Natasha Syvankenko, Director
"A few days ago I was a theatre Director from Ukraine, I worked in different cities. And now, I know about myself only my name. I don't know where I should go tomorrow or the day after that. Luckily I had the chance to cross the border to Poland and now we are in a hostel and we have food and clothes from people here. We help other mothers with their children to have a safe night."
Oleg Karpenko, Actor
"My name is Oleg Karpenko, I'm an actor based in Odessa, Ukraine. Here is a video of me reflecting on my feelings and thoughts in this war."
Bohdan Yaremchuk, Artist
"Our NGO Kosmos Tabir now produces metal protective structures. It helps to make blockposts at roads and stop tanks. Our project has the name 'Space Hedgehog'. Because in Ukraine, the type of construction that we produce for defending from tanks and other military machinery - construction is called Hedgehog -( Їжак).
In civil times, we are an Independent Cultural Center & Community of Art Makers. We produce cultural, art and social projects.
KOSMOS brings together passionaries, cultural figures, social levers, artist, cyclists, eco-activists, actors, musicians and people with questions in their heads. We consider art as a social practice that can unite people from different external worlds and create social interaction between them. For instance, in 2019 we made the first art-train in Europe - GogolTrain. And in September 2021 we realised an international cultural exchange programme, Rubacava, between Ukrainian and German artists.
Now our office is located on the territory of the shipyard. Since the beginning of the war, we have collaborated with local workers and established communication with defense communities in Kyiv.
We have only worked for 3 days, but already have connection with random business and organizations that gave to us resources. Also tomorrow we are gong to start making bulletproof vests - we already have all calculations for that.
The logo for our movement Space Hedgehog painted by famous Ukrainian artist Mitia Buhaichuk. It means interaction between two animals - Hedgehog and Rat. It is our piece of art in military protective structures."
Photos of our headquarters at underground of Factory, where 16 people living for now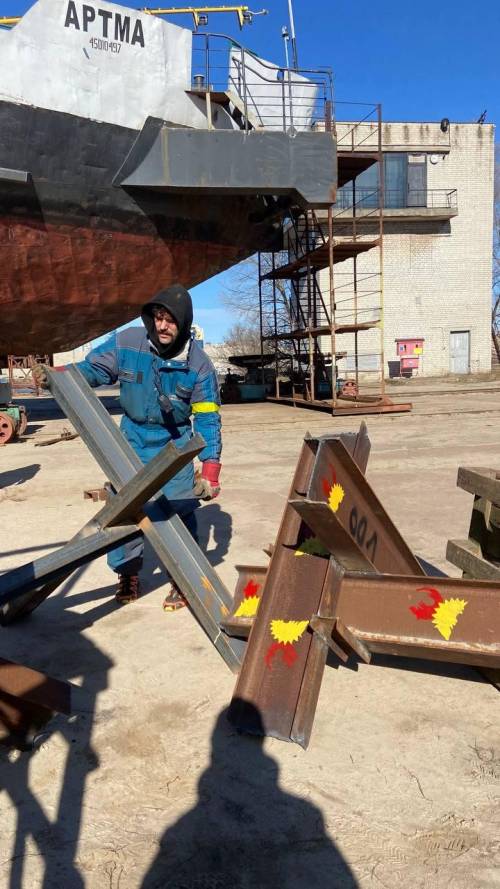 Bogdana Orleanova, Director, Acting Coach, Writer
"This is my story:
After 3 days of the hell in Ukraine, I'm finally safe. I've been 24 hours in Kyiv metro aka a bomb shelter. After 40 hours of a terrible way (3 times air attack not far from our location) to EU border (20 hours of staying in feet in the small crowded space between wagons) I'm in Poland.
In the train we helped the women with small children. Big guys (not Ukrainians, students or foreign refugees, I don't know who them are) almost beat those women - to get the place in the train. We fought with the men physically and psychologically. It was like awful TV reporting from Kabul. It was 26.02.2022 - the day of my birthday, that I've planned to spend in a different way. But my gift was the meeting with such amazing Ukrainian women from the land state of my origin. We supported each other.
Putin bombards Kyiv and all Ukrainian cities. The world must stop that bastard."
Ira Chuzhynova, PhD, Theatre Critic
I'm just now in Kyiv. 19:25, February 28th.
This video is how the Russian army hit Brovary, not far from my home.
Tonight will be hard - this is official information from Ukrainian government's channel.
But actually not only this night.
My friends from East of Ukraine send me horrible messages. They stay in shelters all day long with their children and old parents.
I haven't the words to describe what I feel in the moments when I read them or speak with them.
Some of my friends in the army just now. They took really arms at first. Each of us study something new each day.
I suppose that all world will learn something new about Russia and about "great Russian culture". Culture which brings death and war. #CancelRussianCulture - is used to be all world company as a way to stop Russia!
Oleg Sentsov, Film Director
Ukrainian film director and former political prisoner of Putin's regime Oleg Sentsov addresses the ongoing invasion.
Andriy Bilous, Artistic Director of the Kyiv National Molodyy Theatre
"Dear friends!
On February 24, 2022, we woke up from the explosions and can no longer sleep. Our children are scared, they cry all the time. The Russian aggressor brought death and destruction to our land. Bombed houses, hospitals, museums. But the worst destruction in the souls of ordinary people. Putin has destroyed faith in reason, in the principles of humanity, in the civilization of whole generations of people who did not know the horrors of World War II.
Putin destroyed the love of Ukrainians for Russian culture. Tolstoy, Dostoevsky, Chekhov now speak the words of death.
We have no choice but to impose sanctions on those performances of the repertoire that are based on works by Russian authors. The repertoire of the Young Theater includes 12 such performances, more than 30% of the repertoire. The four planned performances that were in the works will be closed. Society categorically does not accept anything Russian.
It will take a long time after our victory for us Ukrainians to be able to read Russian books again, put on plays by Russian playwrights, listen to Russian music, and speak Russian. I want to believe that the pain in our hearts will not last long, that we will soon be able to put out the fire of hatred for the enemy.
We, the Ukrainians, are infinitely grateful to the citizens of the United Europe for the insane support we feel every day! You are incredible people! Protests against the war in Ukraine took to the streets hundreds of thousands of ordinary people across Europe! It is a testimony that we profess the same principles, that we are one big European family!
Dostoevsky, whose work I never managed to complete, wrote that "the happiness of the whole world is not worth a single tear on the cheek of an innocent child." My children are crying all the time. I hate Putin.
Ukraine will win! Putin is at war with the whole nation, and our nation is invincible! Glory to Ukraine!"