A new President has been elected to lead the board of the largest network of publicly funded theatres in Europe as it drives forward a new strategic vision for 2030.

Cláudia Belchior, Artistic Advisor at the Centro Cultural de Belém in Lisbon/Portugal, has been elected by the members of the European Theatre Convention (ETC) to lead the Board on a two-year mandate.

Belchior brings expertise from eight years as President of Teatro Nacional D. Maria II, the largest theatre in Portugal, where she oversaw the start of a €10.000.000 building redevelopment and laid the strategic framework for the theatre that underpins its ongoing 'National Odyssey' programme. She was also previously Director of the Performing Arts Centre at Centro Cultural de Belém and Director of Production at the Gulbenkian Foundation.

Her election comes as three new theatres joined ETC, increasing the size of the network to 64 members from 31 countries.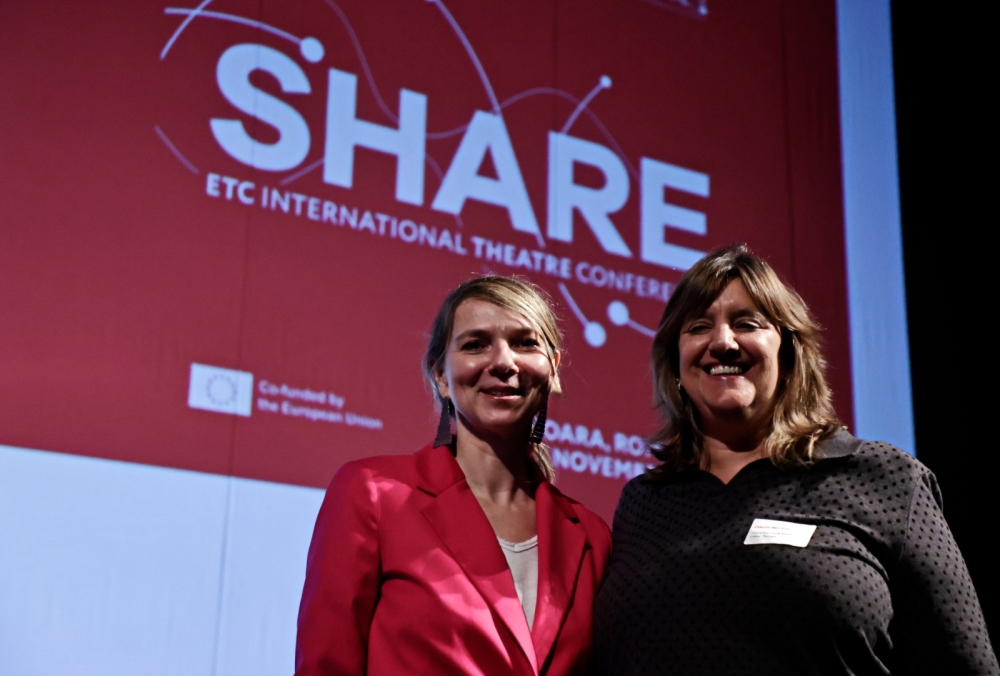 Belchior will work closely with Heidi Wiley, Executive Director of ETC, on the implementation of the new ETC Vision 2030 for the network, which sets out the major strategic goals to make European theatre climate-neutral, diverse, and at the forefront of the digital transition. She takes over as President from Serge Rangoni, General and Artistic Director of Theatre de Liege/Belgium, whose renowned tenure ends after six years in post.

Speaking about her election, Belchior said:
"It is a great honour to be elected President of the European Theatre Convention. I'm committed to working hard to pursue the principles of this important network: embrace European theatres from all geographies, build bridges and connect people and projects, defend artistic freedom, embrace dialogue and advocate for the theatre people.

"The strategic goal for the future will necessarily have to pass by increasing stronger cooperation in areas such as audience development, sustainability, diversity, gender, mental health and social inclusion."

Heidi Wiley added:
"I am immensely grateful for the last six years working alongside ETC's departing president Serge Rangoni. His vision for a stronger and more connected theatre sector in Europe has been a striving inspiration to shape our organisation.

"In Timisoara, we introduced ETC's Vision 2030, our guiding set of strategic goals to create ETC's future, enhancing the Opole Recommendations. I am excited to carry on the work with ETC's new president Cláudia Belchior and the newly elected board of directors."
ETC Board 2023-25

The election took place during the ETC International Theatre Conference at National Theatre Timisoara/Romania from 9-12 November 2023, which took place while the city celebrates its year as one of the European Capitals of Culture.

Belchior will work with a refreshed ETC board that includes theatre leaders Iris Laufenberg, the new Artistic Director of Deutsches Theater Berlin; Norbert Rakowski, Artistic Director of JK Opole Theatre in Opole/Poland; and Tom Leick-Burns, Artistic Director of Theatres de la Ville de Luxembourg.

Also joining the board as Directors are Marina Maleni, Theatre Development Officer, Cyprus Theatre Organisation (THOC)/Cyprus; and Irene Mountraki, Head Dramaturg, Head of Archive, Library and International Collaborations Department, National Theatre of Greece/Greece.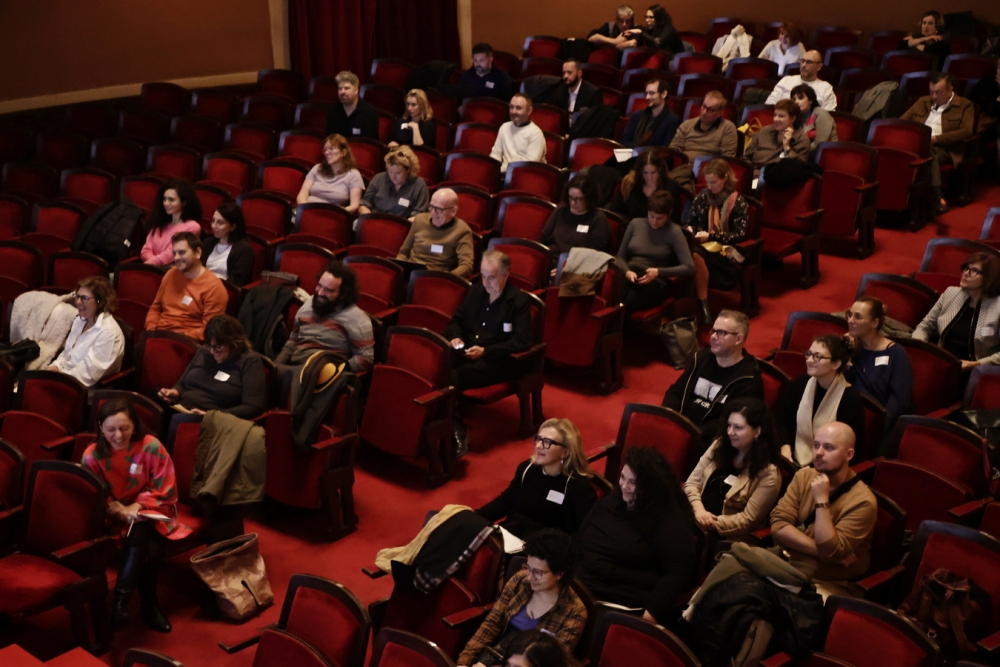 The full list of the ETC Board elected for 2023-25 comprises:

President:
Cláudia Belchior, Artistic Advisor, Centro Cultural de Belém/Portugal
Vice-Presidents:
Iris Laufenberg, Artistic Director, Deutsches Theater Berlin/Germany
Norbert Rakowski, Artistic Director, JK Opole Theatre/Poland
Treasurer:
Serge Rangoni, Artistic Director and General Manager, Theatre de Liège/Belgium
Secretary:
Tom Leick-Burns, Artistic Directo and General Manager, Les Théâtres de la Ville de Luxembourg/Luxembourg
Directors of the Board:
Barbara Ferrato, Head of Artistic, Planning and Development Department at Fondazione del Teatro Stabile di Torino - Teatro Nazionale/Italy
Paulien Geerlings, Head Dramaturg, De Toneelmakerij/The Netherlands
Marina Maleni, Theatre Development Officer, Cyprus Theatre Organisation (THOC)/Cyprus
Irene Mountraki, Head Dramaturg, Head of Archive, Library and International Collaborations Department, National Theatre of Greece/Greece.
Addressing the change of Presidency, Serge Rangoni, now ETC Treasurer, commented:
"It was a very challenging experience and I loved it. I believe strongly that we have to build bridges --today more than ever -- when we see what happens in the world. It's by meeting, exchanging, and talking together that we can really build something.

"I thank all the members of the Board as it was a true pleasure to work together. As President, I tried to be in line with former ETC Presidents Jean-Claude Berutti and Dubravka Vrgoč, who did an incredible job and are a real two sources of inspiration. I hope to continue to be a piece of the puzzle in ETC in the coming years."
Several ETC Board Directors finished their mandates in 2023 but will continue to provide ETC with expertise for strategic development through the newly created ETC Theatre Advisory Council. They are:
Marko Bratuš, Nova Gorica/Slovenia
Dubravka Vrgoč, Zagreb/Croatia
Bettina Pesch, Magdeburg/Germany
Joachim Klement, Dresden/Germany
New ETC Members and Conference Programme

The ETC Conference in Timisoara also saw applications from three new theatres accepted to join the ETC network, including ETC's first theatre from Lithuania. They are:
Their acceptance came during a packed ETC Conference at the National Theatre Timisoara, titled 'SHARE', which stressed the importance of collaboration and peer-to-peer learning while elaborating on ETC's future work and priorities.
The keynote speech was delivered by renowned journalist Colette Braeckman on 'Fake News and the Role of Theatre'. Braeckman, who worked closely with Nobel-prize winner Doctor Denis Mukwege on the book and later documentary 'L'homme qui répare les femmes', had travelled to Timisoara shortly after the start of the Romanian Revolution in 1989. Her work was central in dispelling the media misinformation that built up around one concrete event known as the 'mass graves affair'. Her speech considered what it means to find the truth, and the prospect of this work in the context of a theatre.

The Conference also included firm favourites such as project pitching, speed meetings, and updates on the progress of ETC's ambitious and pioneering pledge to become a climate-positive network by 2030. Two international sustainability tools were presented: the ETC Theatre Green Book, which will be launched in summer 2024, and the STAGES Doughnut Workshop, which was released to the public in autumn 2023. Recordings of key conference sessions will be available to watch on the ETC website in the coming weeks.

Next ETC Conference: SNG Nova Gorica/Slovenia

The next ETC International Theatre Conference will be held from 17-21 April 2024 in partnership with SNG Nova Gorica/Slovenia. The 17-19 April dates will be dedicated to the Young Europe IV Festival, with a showcase of the eight Young Europe performances for members, while the conference itself will take place from 19-21 April.
Photos: © European Theatre Convention / Adrian Piclisan