Workshops on Sustainable Cultural Management and Green Communication
10 December 2020, 10:00 - 12:30 CET
ETC is delighted to offer members the opportunity to participate in one of two parallel workshops on sustainable practices in cultural organisations. The sessions are facilitated by ETC and experts from Julie's Bicycle.
Workshop 1: Introduction to Sustainable Cultural Management
Climate change is a global challenge that needs to be tackled today for a better tomorrow. Shifting the focus from theory to practice, this workshop is an introduction to the best methodologies and practices for embedding environmental sustainability across the operations and artistic programming of theatre and performing arts organisations.

For any queries, please contact Hélène Gauthier on hgauthier@europeantheatre.eu
Workshop 2: Introduction to Green Communication:
How can European theatres successfully engage their audiences on the climate crisis? How can theatres effectively communicate the work they're doing on sustainability to their stakeholders? This workshop will focus on the key messaging and approaches to communicating on climate within the cultural sector, and how this connects to broader climate conversations.

For any queries, please contact Christy Romer on communication@europeantheatre.eu
Sustainable Cultural Management and Green Communication - Workshop Report
Download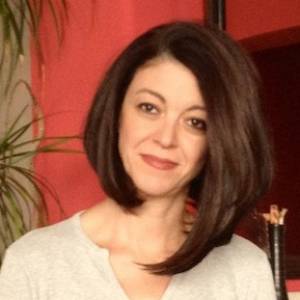 Iphigenia Taxopoulou
mitos21 General Secretary & Julie's Bicycle Associate Partner
Facilitator for Introduction to Sustainable Cultural Management
Iphigenia Taxopoulou is a founding member and General Secretary of the European theatre network mitos21. She is also an Associate of Julie's Bicycle, the UK based charity, bridging environmental sustainability and the creative sector. She has served as Associate General Secretary of the International Association of Theatre Critics, as cultural advisor to the Speaker of the Hellenic Parliament and has collaborated as dramaturg, artistic advisor, projects manager, sustainability consultant and lecturer, with theatres, festivals and cultural institutions in Greece and abroad. She holds degrees in Philology & Modern Greek Studies, as well as in Cultural Management & Theatre Criticism. She is currently writing a book, The Practitioner's Handbook of Sustainable Theatre, which will be published by Methuen Drama (Bloomsbury Publishing).
Abbi Knell
Julie's Bicycle Board Member
Facilitator for Introduction to Green Communication
Abbi Knell manages and supports the campaigns and communications work at the Children's Investment Fund Foundation, one of the world's largest climate philanthropies. This primarily involves leading climate youth campaigns, promoting engaging narratives for climate storytelling, and advocacy for policy-change. Abbi is also a Board Member for Julie's Bicycle, and previously, Abbi worked in the national communications team at Arts Council England, leading on their environmental sustainability work.