The future looks bright for artistic collaboration in Europe, with a wave of leading theatres all deciding to join the continent's biggest theatre network at the same time.
10 theatres, plus one supported member, have joined the European Theatre Convention (ETC) network of publicly-funded theatres – receiving their acceptance during the ETC International Theatre Conference, 19-22 May 2022, held in partnership with Národní divadlo - National Theatre Prague.
The list of new members includes the Young Vic and the Royal Lyceum Theatre Edinburgh, two high-profile theatres from the UK. It also includes theatres joining ETC for the first time from Greece (National Theatre of Greece), Latvia (Dailes Theatre), Montenegro (Royal Theatre 'Zetski Dom'), Kosovo (National Theatre Kosovo), alongside a special support for a boundary-pushing theatre from Ukraine, Left Bank Theater. (Full list below)
Speaking about the expansion of the network on a scale never seen before, ETC Executive Director Heidi Wiley said: "This is a clear signal that theatres are looking to rebuild European connections again after such a challenging two years. It is now time to join togeher and we could not be happier to welcome so many outstanding theatres to the network, and to support their renewed desire for European collaboration."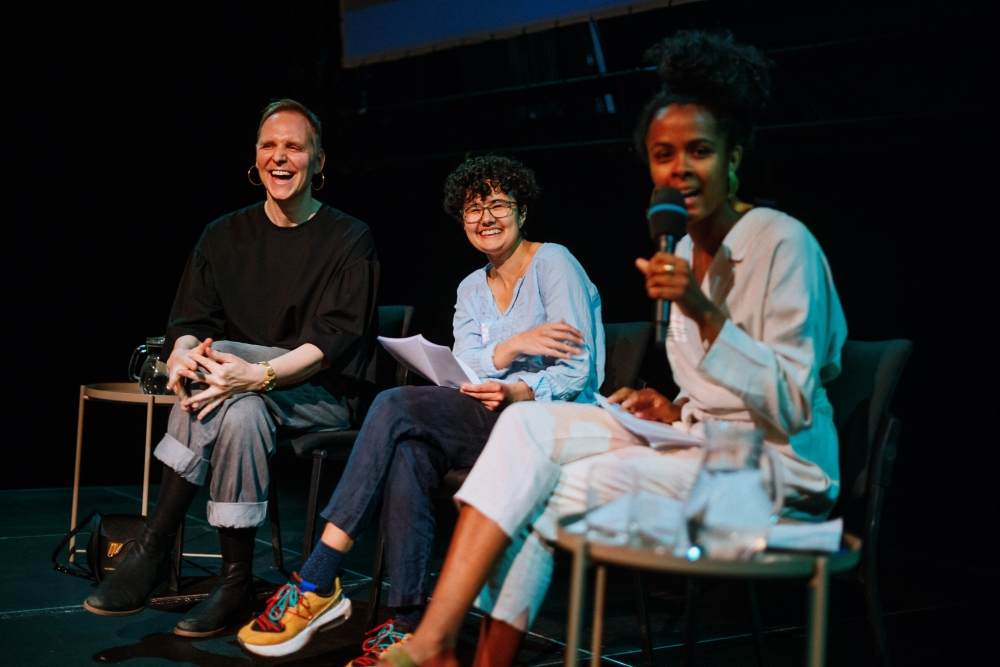 Jan Hromádko
Diver-Cities and Diverse Theatres
The expansion of the network came during the most recent edition of the ETC International Theatre Conference, a bi-annual opportunity for networking, artistic collaboration and reflecting on key issues facing the theatre sector. The event took place from 19-22 May, in partnership with Národní divadlo - National Theatre Prague.
The flagship events were:
In Focus: Ukraine 2022, which shone a light on artists who remain in Ukraine or have fled the country because of the Russian invasion. It featured Vlad Troitsky, Artistic Director of Dakh Theatre / Gogolfest; Stas Zirkhov, Artistic Director of Left Bank Theater; and, via video message, Andrii Bilous, Artistic Director of Molodyy Theatre in Kyiv. Donation details are available for Dakh Theatre and Molodyy Theatre, to directly help artists and theatres in need in Ukraine
Panel Discussion: Diver-Cities and Diverse Theatre for Europe's Local Communities. Speakers included Daniela Špinar, Artistic Director of Narodní Dívadlo - National Theatre Prague; Evein Obulor, Coordinator of the European Coalition of Cities against Racism & Migration Hub Heidelberg; Nina van Tongeren, Theatre Maker & Researcher; and Leyla Ercan, 360° Agent for Diversity at Staatstheater Hannover.
The wide-ranging discussions on themes from making art in conflict zones to the concept of 'Black Joy' will soon be available to watch on demand on the ETC website.
The conference also featured a participatory reading session of new work by Slovenian playwright Simon Hamer, Everything OK, a play about (un)employment, (im)migration, discrimination, ageism and loneliness; and ALASKA, a new piece by Greek writer Evangelos Kosmidis. This is a work-in-progress performance created in Mariupol, Ukraine, in 2021, including real thoughts and comments from children who face war: Mariupol has been near the front line since 2014.
In addition, the 'Talent Market' session introduced young European artists and women directors to the network of attending theatres, to increase the diversity of the theatre landscape. A new European-Canadian collaboration was launched, connecting ETC and the CINARS Biennale to expand and strengthen international collaboration beyond Europe.
Jan Hromádko
Speaking about the conference, Špinar said: "I feel very happy and honoured that we - the National Theatre, Czech Republic – hosted the ETC International Theatre Conference in our beautiful city of Prague. I also felt the power of the title: Diver-Cities and Diverse Theatre for Europe's Local Communities. It is so necessary to stay personally connected, to talk about important issues not only connected with theatre but with the world as such. We must show solidarity with the Ukraine, still being invaded by Russia. And give an opportunity to exchange thoughts with theatre makers across Europe.
"As a transgender woman, I was especially drawn to discussions about diversity in theatres, which is still quite an issue in our country."
Serge Rangoni, ETC President and Artistic Director & General Manager of Theatre de Liege, added: "There are many challenges for our societies and our theatres: first of all, the past two years, which have left artists and audiences in a state of stupefaction that is struggling to fade away; then the war in Europe, which was unthinkable just a few months ago; then the challenge of sustainability, which has become obvious; and finally the ever-more perceptible fragmentation of our audiences.
"The ruptures we are experiencing are essential moments of reinvention, and to come together and talk to each other about this, after all this time of isolation, is essential. It is up to us to renew the experiences we offer to our audiences: the moments, the subjects, the forms, the quality of the experiences. Thank you to ETC for allowing us to keep the link across borders and to be able to exchange now."
The next ETC International Theatre Conference will be held in Lisbon, in partnership with Teatro Nacional D.María II, from 3-6 November 2022.
Full List of Joining Theatres
Schauspielhaus Salzburg (Austria)
Théâtre National de Bretagne (France)
National Theatre of Greece (Greece)
National Theater of Kosovo (Kosovo)
Dailes Theatre (Latvia)
Royal Theatre 'Zetski Dom' (Montenegro)
Het Zuidelijk Toneel (The Netherlands)
Royal Lyceum Theatre Edinburgh (UK)
Young Vic (UK)
Tbilisi International Festival of Theatre (Georgia)
In addition, Left Bank Theater (Ukraine) has joined the network in a special, 6-month arrangement to facilitate collaboration.
Founded in 1988, the European Theatre Convention (ETC) is the largest network of public theatres in Europe. It is an arts organisation that promotes European theatre as a vital platform for dialogue, democracy and interaction that responds to, reflects and engages with today's diverse audiences and changing societies. ETC's programme of grants and events support networking, professional development and artistic collaborations for theatre staff across Europe — championing theatre as a key European art form for the 21st century.
ETC has 54 members from 30 countries and is supported by the Creative Europe Programme of the European Union.